Body
Alex Blackwell, with his wife, Daria, is a lifelong sailor and passionate cruiser. They have completed three Atlantic crossings and have spent years cruising the coasts of the Americas and Europe on their ketch Aleria. Alex is a sailing journalist, author, and editor. He frequently writes about sailing technology and sailing adventures, contributing to several magazines, websites and e-zines, including his own, Coastalboating.net.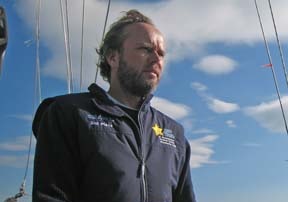 Alex is an independent marketing and communications consultant and mentor to small companies. He is licensed as a commercial Master Mariner by the US Coast Guard. Together with his wife Daria, Alex has cruised all around the north Atlantic aboard their ketch Aleria. Aleria is currently in Galicia, NW Spain, awaiting the next adventure.
Alex enjoyed a professional career as copywriter, marketer and speaker. Born in Chicago, Alex and his family moved to Clew Bay, Ireland when he was 14. After a first career he went back to America for a six-month market research project. As many people do, he stayed for 20 years. There he was co-owner of a commercial printing and marketing company. This included a book printing division, targeting self-published authors and book marketing companies.
Alex has since successfully self-published numerous books. His latest book, Self-Publishing for Success - Every book deserves to be published, is the result of audience enthusiasm for his seminar on the same subject. In it, he introduces people to some of the options available in today's publishing world, based on his personal experience, giving a taste of what may or may not work for an author. He also gives pointers on what it takes to successfully self-publish a book.